Article Source: Convenience Store News
PASADENA, Calif. — Since its founding in 1994, Wetzel's Pretzels has been known for its soft, salty pretzels and fun menu innovation featured beneath an unmistakably recognizable banner found in malls from coast to coast.
Now, after experiencing an explosive 35 percent same-store sales growth over a three-year period ending in 2022, the snacking innovator has baked the perfect recipe for 2023: adopting snacking strategies that are ahead of industry trends by expanding into new venues and formats, such as the company's presence in convenience stores.
"Our pipeline is the strongest it has ever been. We have doubled development since malls were our core format and are adding more units in flexible settings," former Wetzel's CEO Jennifer Schuler told Convenience Store News. Schuler stepped down from her position earlier this spring. "We saw a need to service snacking beyond malls, so by going down the path of format innovation, we can give our delicious pretzels to more consumers wherever they are. As we see more success in these flexible formats, we are constantly thinking of new ways to 'bring pretzels to the people' in both traditional and nontraditional settings."
Because c-stores have traditionally been known to be fulfilled by distributors and food providers, Wetzel's wanted to find a way to bring a well-known brand to these guests. And because of its store-within-a-store format, the company can bring more fresh types of snacking into c-store environments, Schuler pointed out. For example, Wetzel's Dog Bites fit in cup holders, making them ideal for consumers on the go.
"We know that a mall is not the only place people want fresh, hot pretzels, so enabling other options spearheaded immense growth within the brand and expanded our reach in serving more snackers. We want to make sure the product is available no matter the location, which was a significant driving force in our c-store presence," she explained. "Now, c-store visitors can experience a brand and product that is hot and fresh, instead of prepackaged. We also have developed new baking strategies within c-stores, which reduces labor costs and delivers more operational innovation."
Wetzel's network currently includes seven c-store locations, with several more in the pipeline. One of the company's c-store partners is Houston-based Phillips 66. The partnership gives franchising opportunities to operators of Phillips 66, Conoco and 76 branded c-stores.
Expanded Innovation
This year, Wetzel's will open its milestone 400th location, and franchise unit growth is anticipated to be more than a 50 percent increase over 2022, according to the company.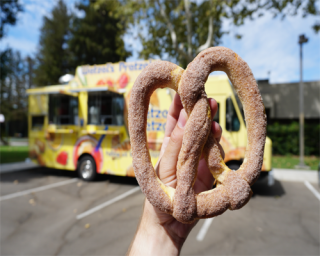 In addition to convenience stores, Wetzel's will tap into other locations where consumers are looking for a hot, fresh snack that's portable and convenient, and where this is optimal foot traffic to support the business. This includes growing its food truck fleet, as well as its presence in Walmart and Macy's stores, airports and traditional mall locations.
While Wetzel's has the ability to adapt to compelling formats, Schuler believes the company's appeal to franchisees and consumers alike is its continued focus on menu innovation that satiates consumer demand for snack-size bites and mini meal fill-ins.
"We align our menu innovation with current taste trends, aiming to increase sales for our franchisees. We started as solely a pretzel company and now a significant number of sales come from innovative products like Dog Bites — a bite-sized version of our classic, all-beef Wetzel Dog," Schuler explained. "By staying on top of industry trends, we know we are keeping the brand fresh. To ensure that our menu innovation is making franchisees profitable, we do consistent market testing to be certain new products are going to perform well with consumers and that the equipment needed to make menu items has a strong return on the investment."
Wetzel's Pretzels is headquartered in Pasadena. The company was acquired in December 2022 by MTY Franchising USA Inc., a wholly owned subsidiary of MTY Food Group Inc., for $207 million.